I recently had to travel to Tampa for work. I had to be there for a mediation on Friday, so my wife and I decided to extend our stay through the weekend and make it a small photo trip.
We decided to drive there, and on the way passed the beautiful Sunshine Skyway Bridge, pictured above. It was my first time at this bridge, and I had this feeling in my stomach that if I didn't stop my car and photograph it, I would regret it. So I stopped on the side of the bridge.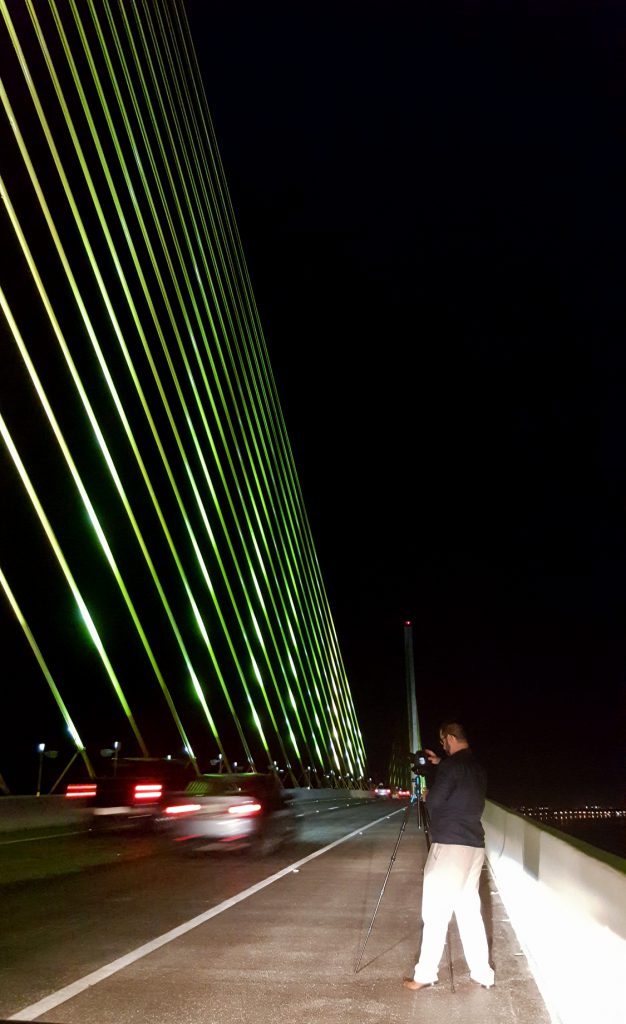 I used the Canon 6D with the Canon 16-35mm f/4L IS lens on a tripod, which I set up very quickly. I only took four images in less than 10 minutes total, three of which I liked very much and I'm sharing here with you. All of these were shot at f/11, ISO 200, with a 30 second exposure.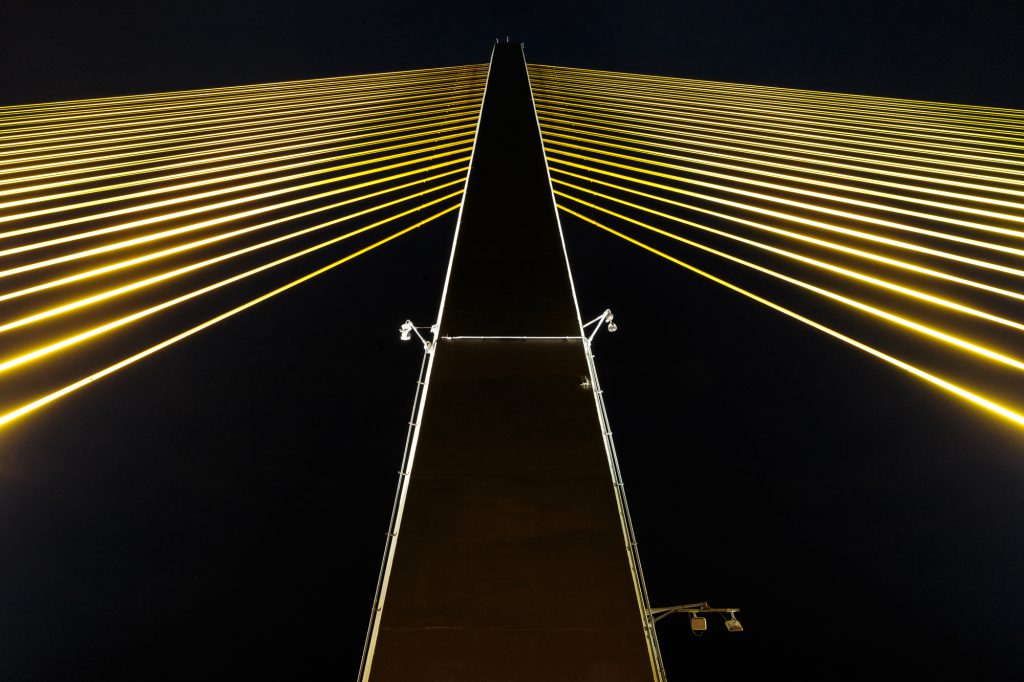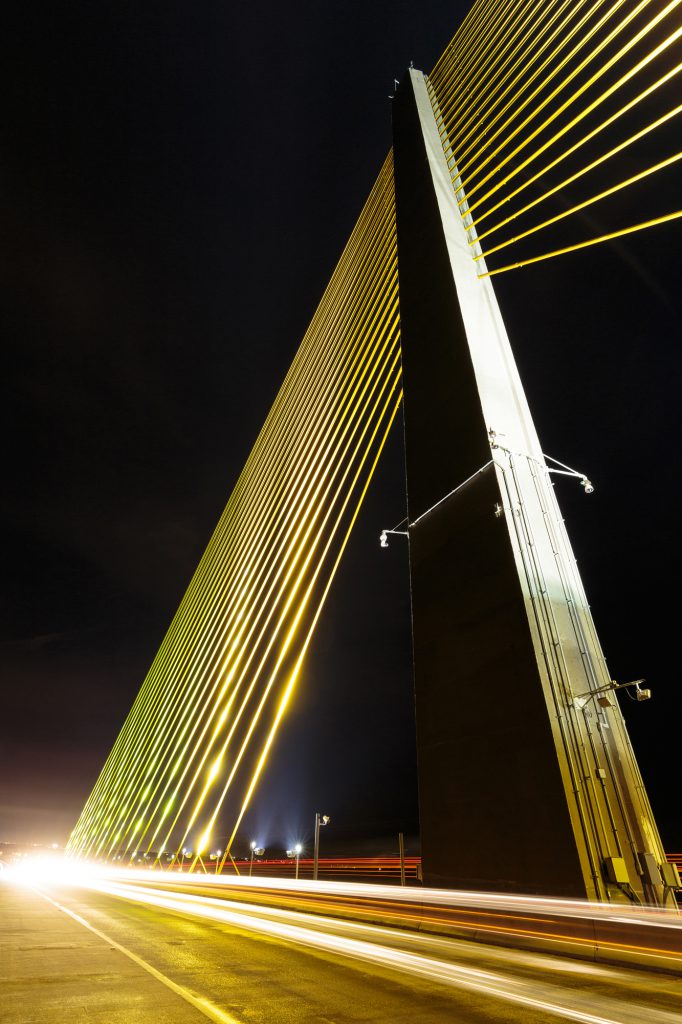 NOTE: I do not recommend this behavior. It was brought to my attention once I shared these photos on Facebook, that this is a very dangerous bridge to stop at, and that my actions were not safe. Please mind your safety when you are out photographing.
The next day, after work was done, we were driving around and saw our first wild sandhill cranes. I was extremely excited, since I've only ever seen these in zoos.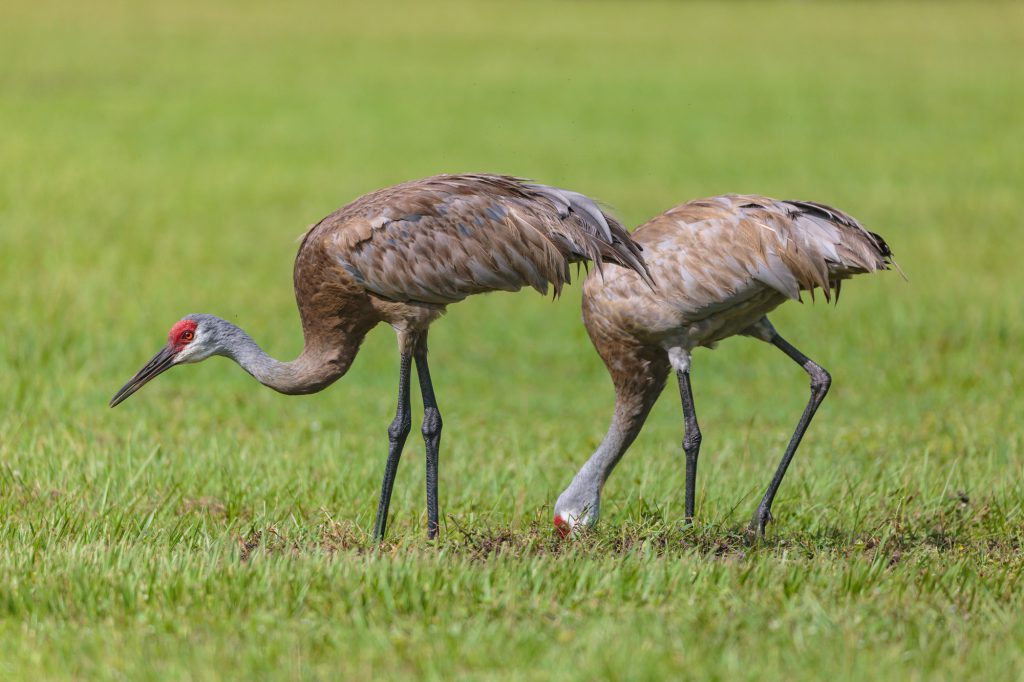 I saw them off the road, made a u-turn and went into a nearby parking lot. I used the Canon 6D along with the Sigma 150-600mm C lens, as I knew I would want as much reach as possible. These were wild, but I suppose somewhat used to humans. I creeped up, little by little, until I was able to fill the frame with the two beauties.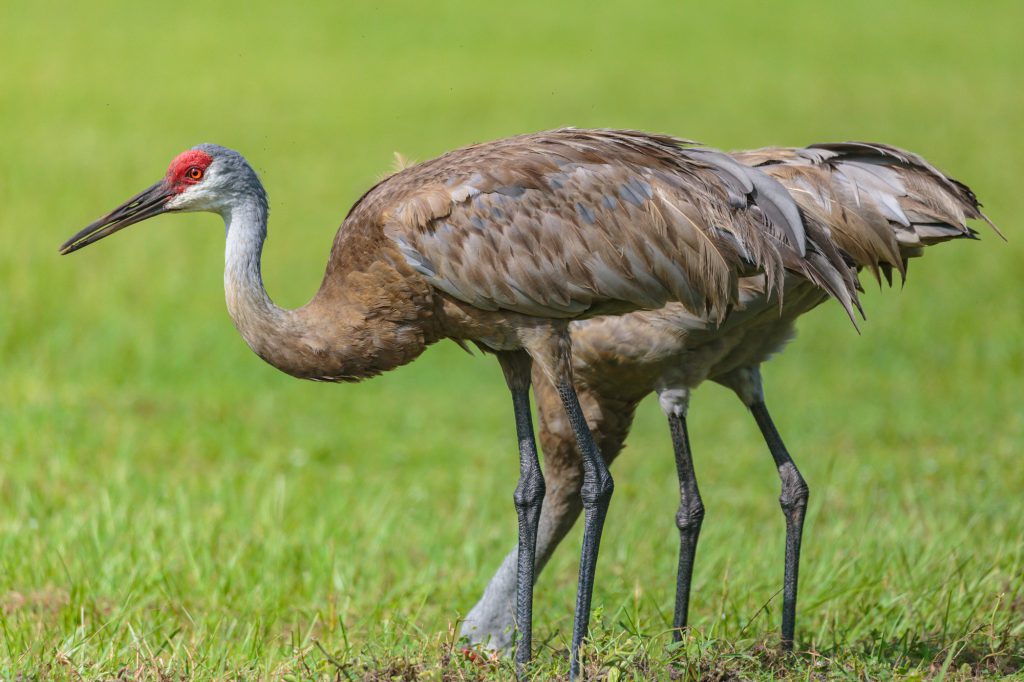 There's one maxim about wildlife photography I totally agree with: there is no substitute to proximity and focal length. Sure, if you have a camera with a large sensor and you have the ability to crop (i.e. like Canon's 50mp 5DsR), you can get away with shorter focal length. But if you can pair whatever camera you have, with a long lens of good quality, you're golden.
Here's a crop of the photo above. There is simply no way I could crop a 400mm photo and still have this detail.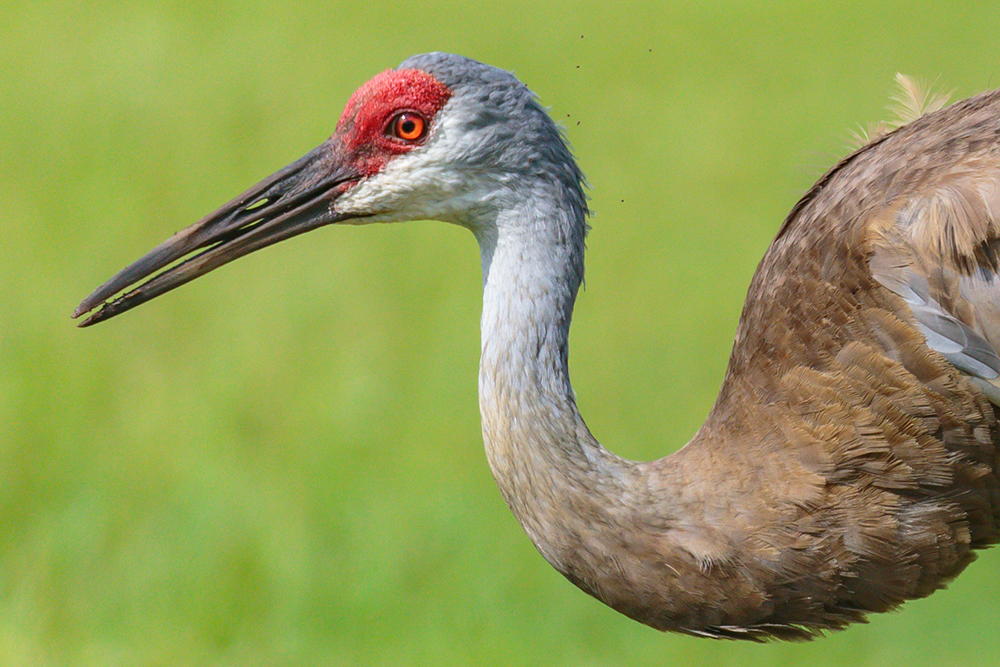 I took a few photos of these two and decided to stop bothering them after I had enough. It's worth noting, again, that they did not seemed bothered by my presence. Still, I didn't want to agitate them.
Before leaving them, I spotted this Osprey on a tree in the distance. My stalking skills aren't that great, so this is as close as I was able to get before I scared him away.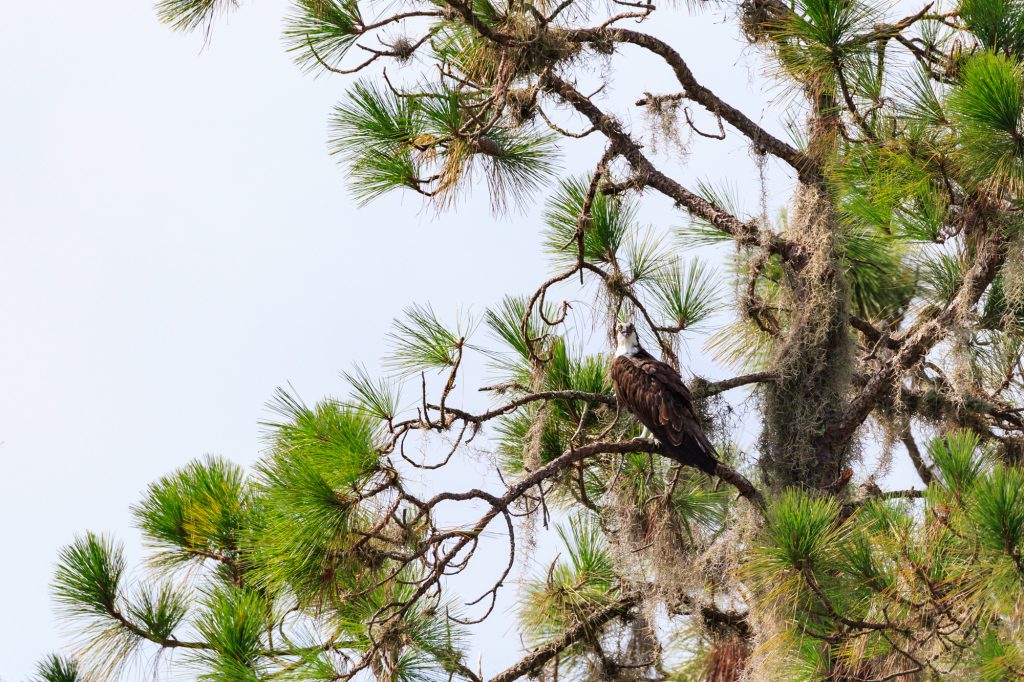 That was a fun time, and something I definitely need to get back into again.
The next day we attended the Tampa Bay Comic Con, which you can read about in my blog post:
http://aragon.photo/tampa-bay-comic-con-2016/
Our last day in the Tampa area wasn't actually spent in Tampa, but in Lake Wales, at the magnificent Bok Tower Gardens.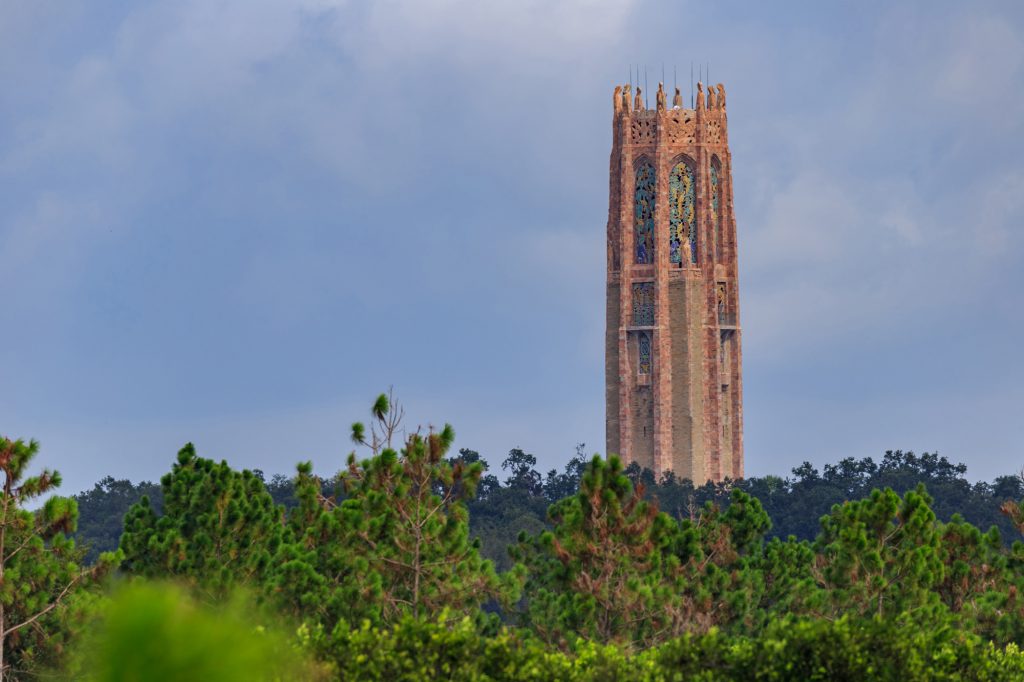 This place is big. It's HUGE. When you pass the entrance gate, there's over a mile distance to the actual visitor center and Tower. I couldn't help myself though, and so I took my first picture of the Tower from slightly over a mile away, seen above. I used the Canon 6D and the Sigma 150-600mm C lens at 600mm, on a tripod.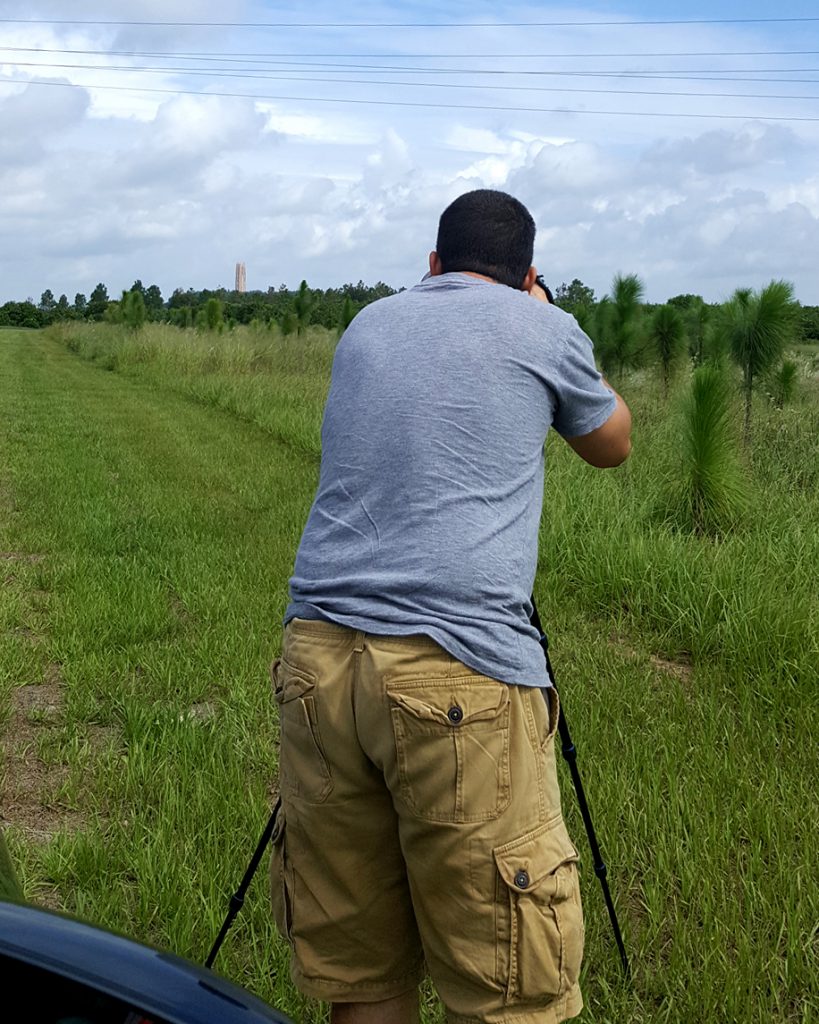 In this photo, taken by my wife on her cell phone, you can see me behind the camera, and that tiny thing in the distance … yep, that's the Tower.
Around this area they have groves and groves of orange trees. It looked beautiful, and it smelled like a very pleasant citrus candle. It would be worth it just to hang around those trees for a while. But we had a lot to see.
I kept photographing the Tower as we drove closer to it. Eventually changing lenses to the Canon 70-200mm f/4L IS.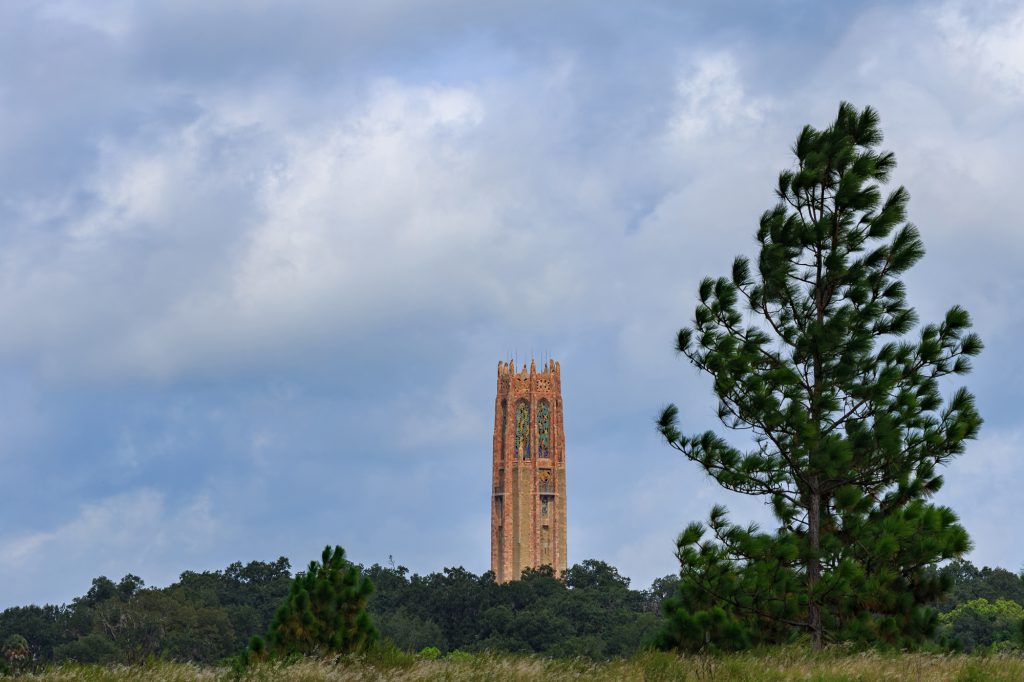 It took a while, but we eventually made it to the actual visitor center. Even this, is a beautiful place. I took this photo using the Canon 24-70mm f/4L IS, again on a tripod.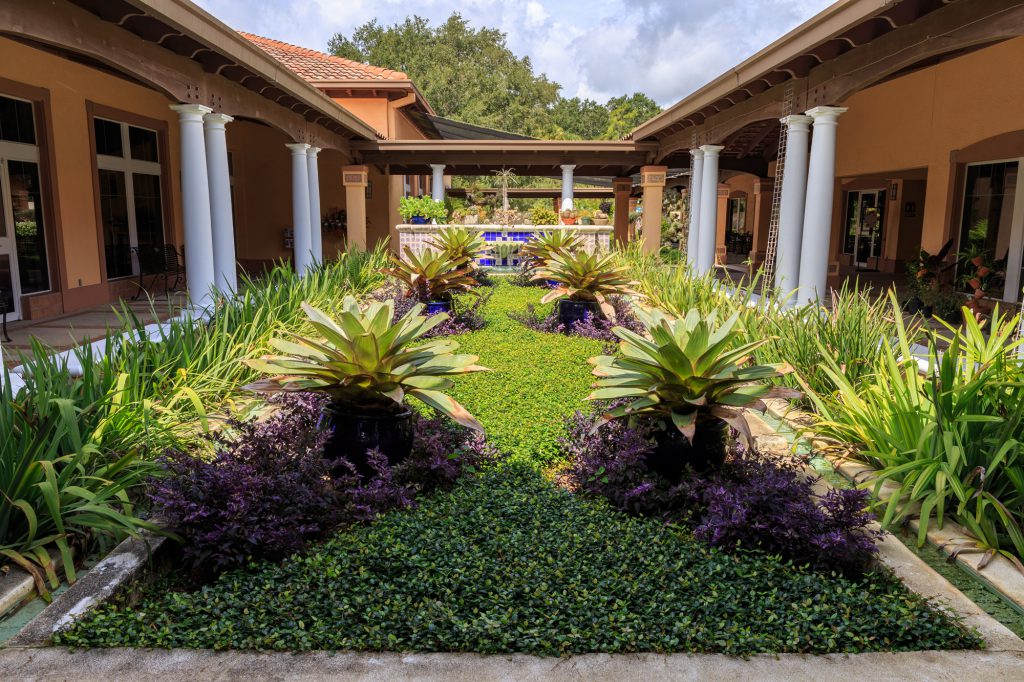 Now, I expected this place to be nice, sure, but really I was going for the Tower itself. I did not expect to have such beautiful gardens, full of critters and blooming flowers. I found myself wishing for a dedicated macro lens, which I unfortunately did not have on this trip. Still, the Canon 70-200mm f/4L IS has decent minimum focusing distance, which produces some very pleasant pseudo-macro photos.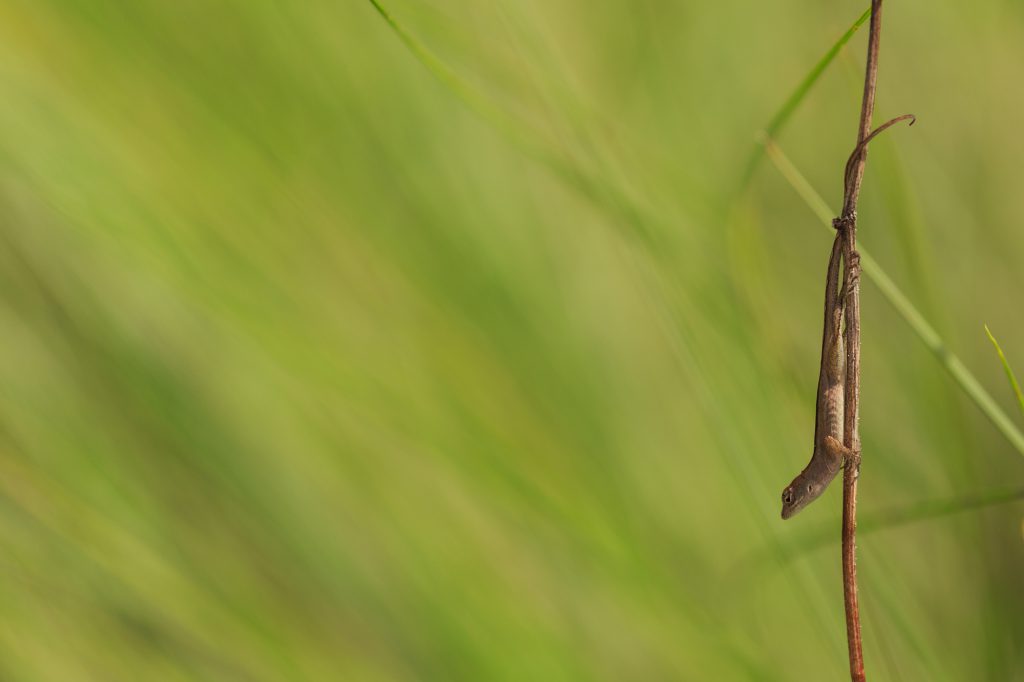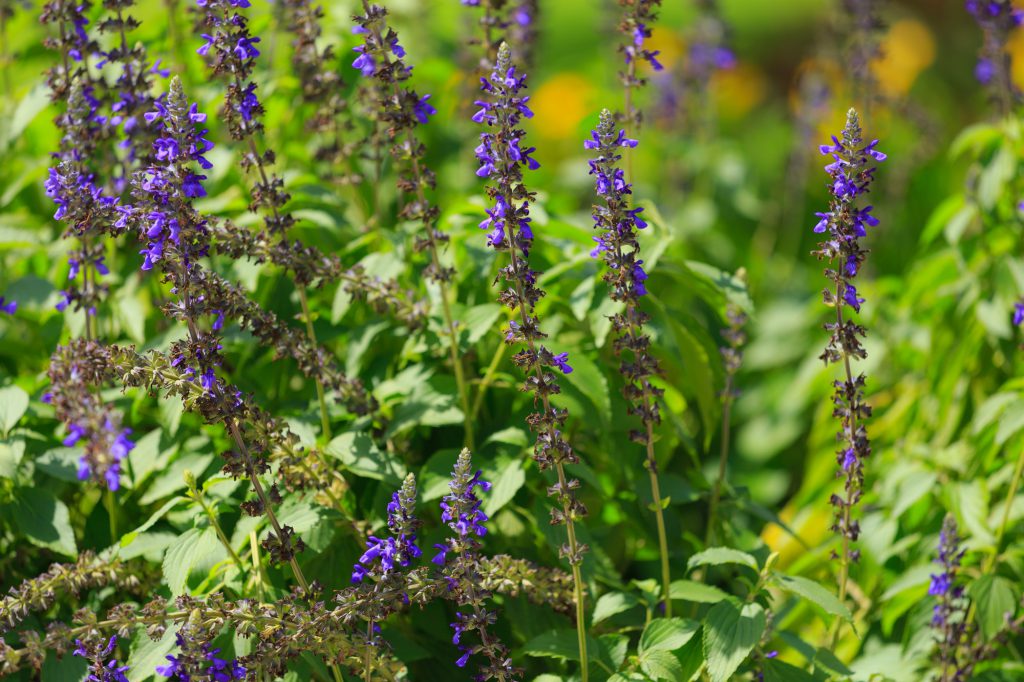 If you are shopping for a normal zoom lens, the Canon 24-70mm f/4L IS is an interesting specimen. I purchased it for a couple of reasons: it's decently priced, it's very sharp wide open, it has image stabilization, and it provides a macro "mode." Since I didn't have a dedicated macro lens on this trip, I decided to try the 24-70's macro mode. And I have to say, once you get used to the ridiculously close focusing distance (you almost have to touch your subject!), it performs exceptionally well.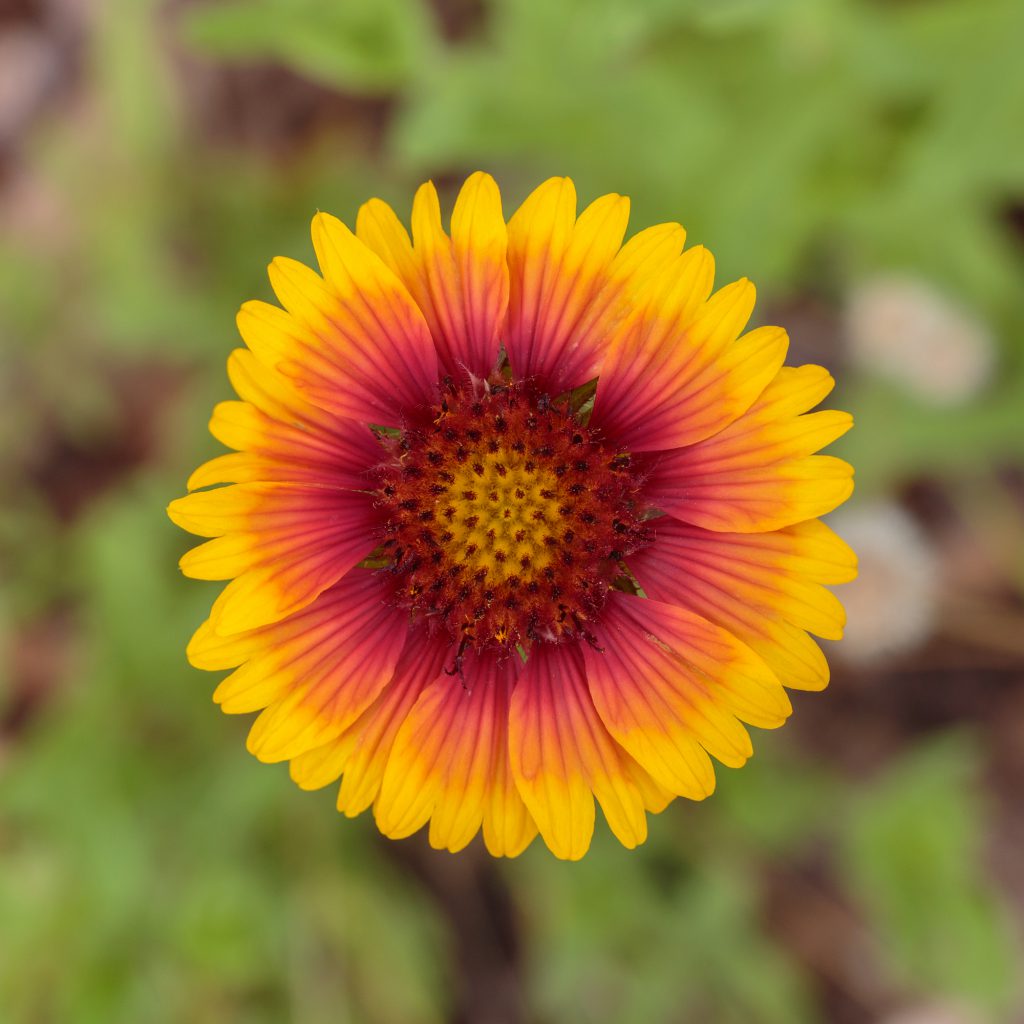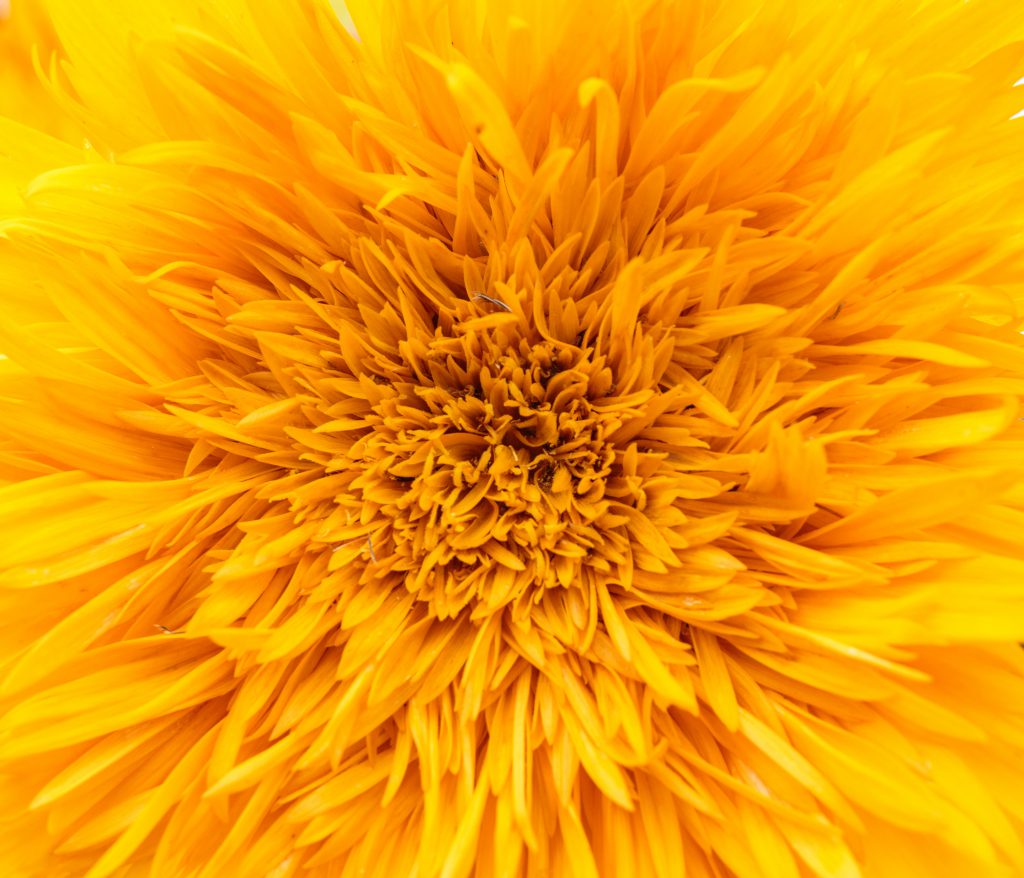 The gardens have a lot of area to cover. We walked around, enjoying the view. There really is way too much to take in over a short visit. Unfortunately, we did have a time limit, so we moved along at a brisk pace.
My wife got a photo of me photographing some spanish moss on trees: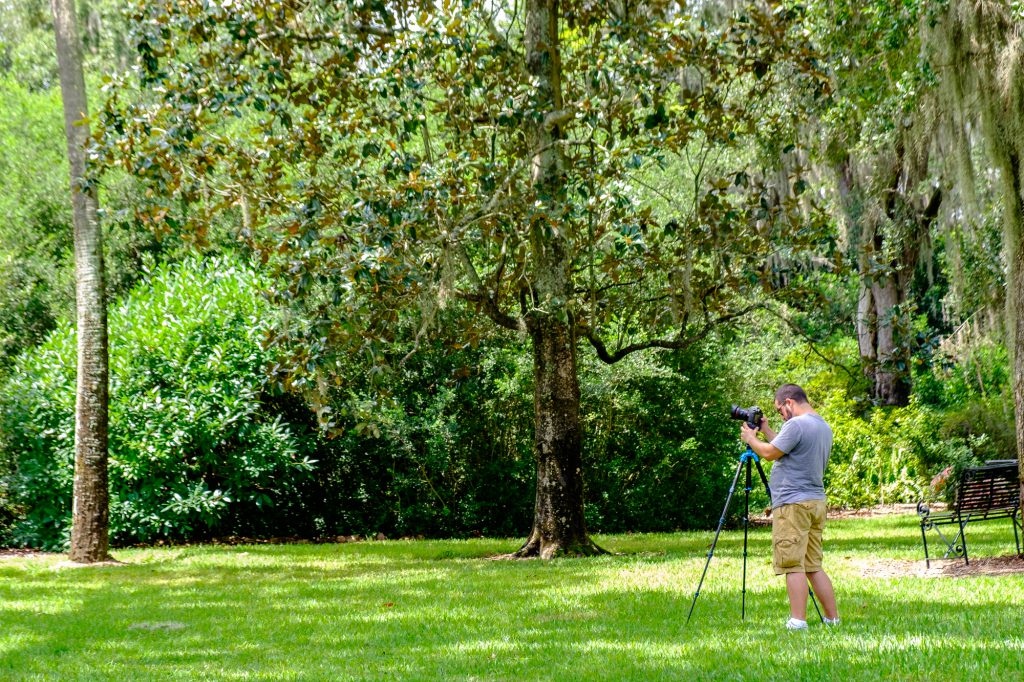 And the resulting photo, taken with the 24-70mm f/4L IS at f/11, ISO 100, 1/100.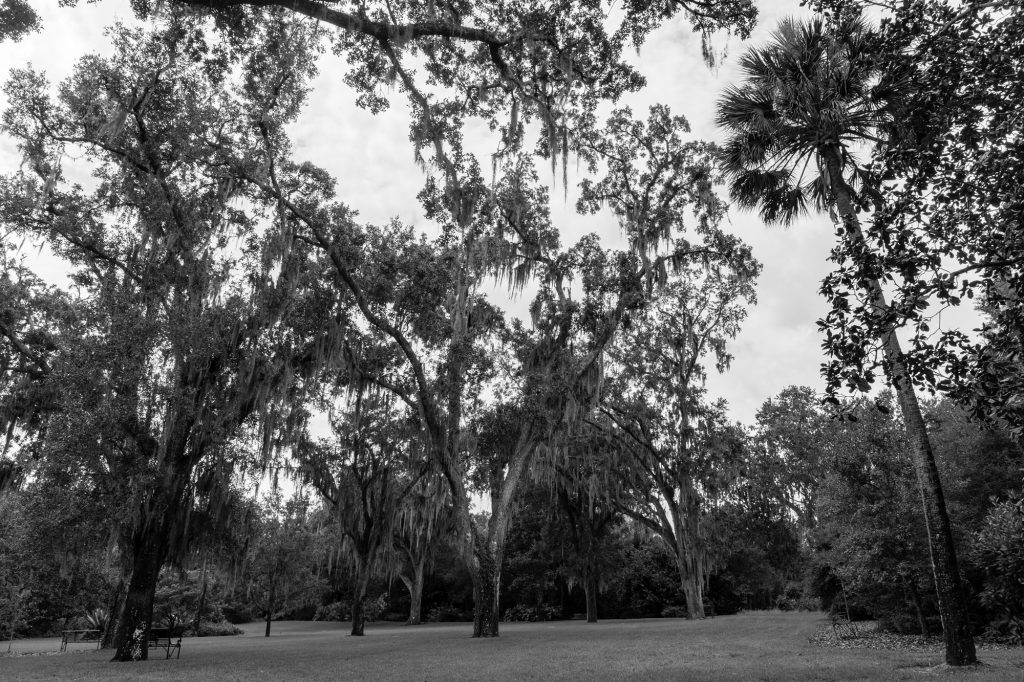 On the way to the Tower, I found this beautiful lily pad pond, which I just had to stop and photograph, regardless of how excited I was to get to the actual Tower. Now, I knew I wanted to do a long exposure to get that smooth, silky water…but I didn't have a neutral density filter with me and there was simply too much light. I used the stacking method, for which I took about 25 photos at f/11 ISO 100 1/40, and stacked them using Photoshop. The end result simulates using a neutral density filter pretty well.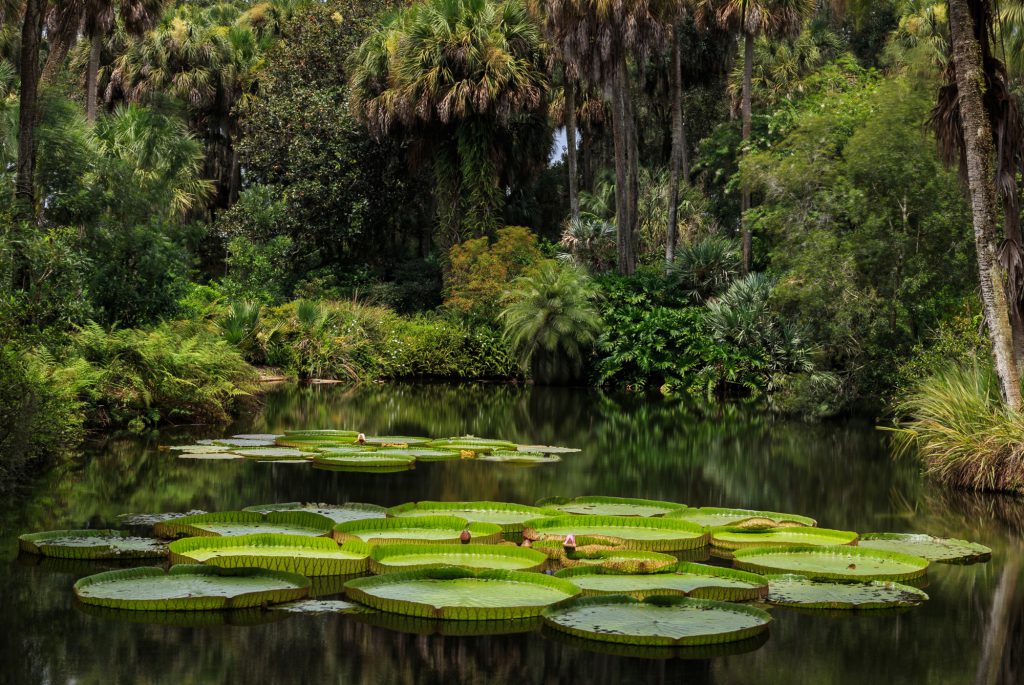 We then finally made it to the Tower. And I have to say, it's an imposing structure that really makes you feel small when standing in front of it. I took tons of photos, of course. But this one was taken with the goal of highlighting the enormity of the structure. This is a vertical panorama which, after cropping, resulted in a 36.5 megapixel file.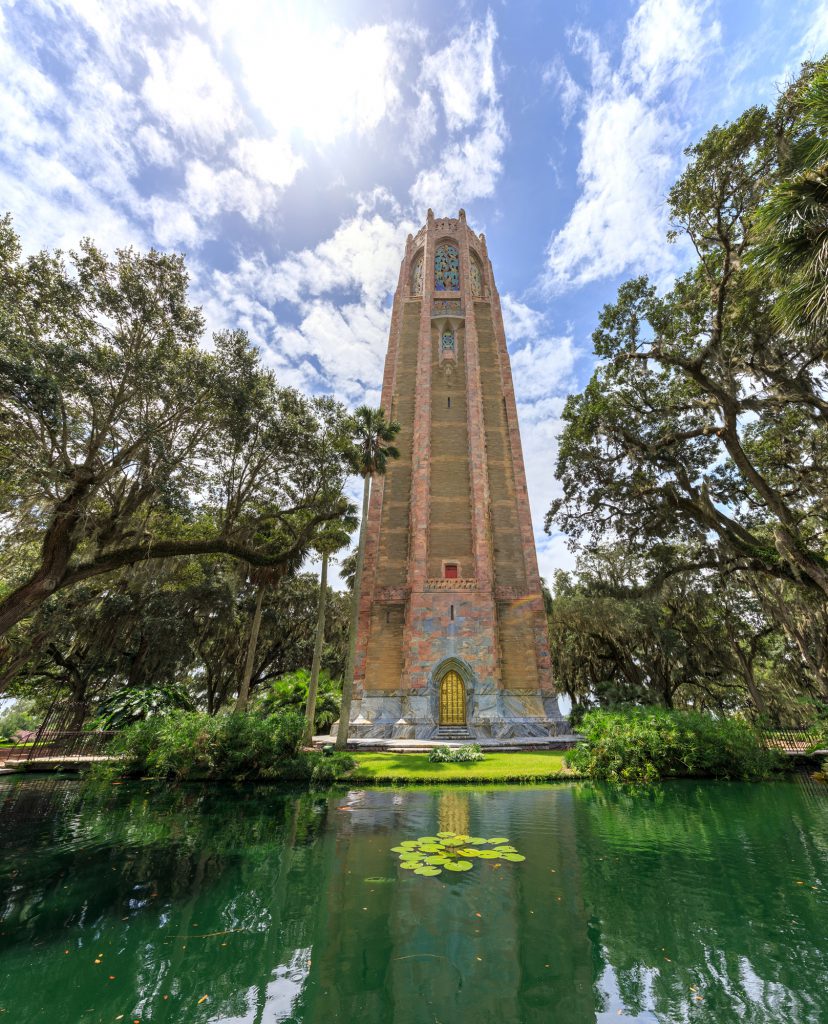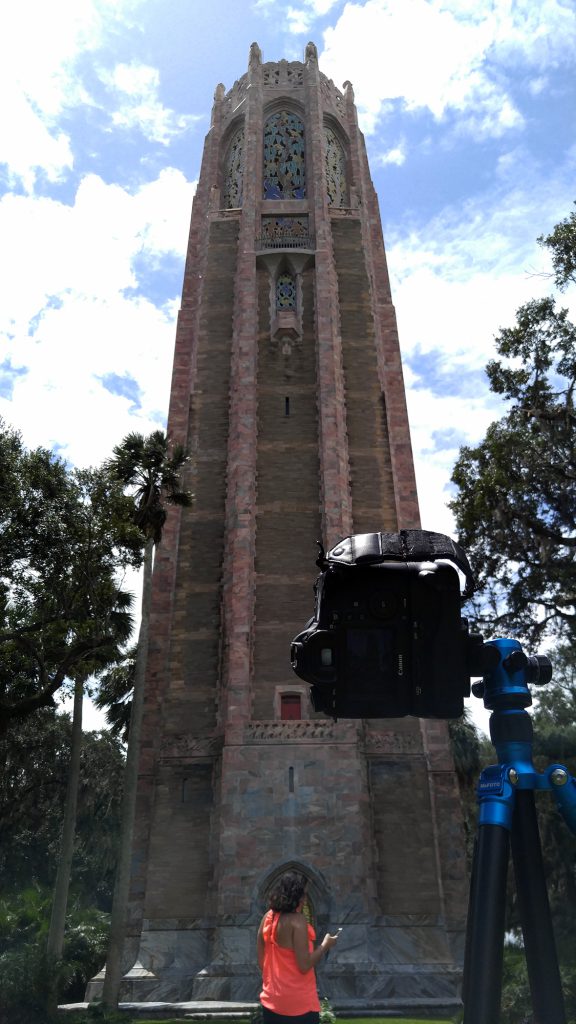 If you stopped there, turned around, and went home… you would have missed the open landscape behind the Tower. We walked around and I noticed there was something there to look at. So I went to check it out.

This is the backdrop to the Tower, which I wonder how many people never even see. The image is composed of seven 3-exposure HDR captures, for a total of 21 images, taken with the Canon 6D and Canon 16-35mm f/4L IS at 35mm on a tripod. After cropping to taste, the end result is a 60 megapixel file, with tons of detail.
Did you notice those clouds on the right? They were coming for us, and coming fast. But I wasn't deterred. I imagine it's hard to see on the blog post, but slightly to the right of the middle of the image, there's a pink dot in all that green…and I was curious to see it up close. I ran back to my wife, who had the camera bag, switched to the Sigma 150-600mm C, and ran back (literally) to take the photo before the rain got to me.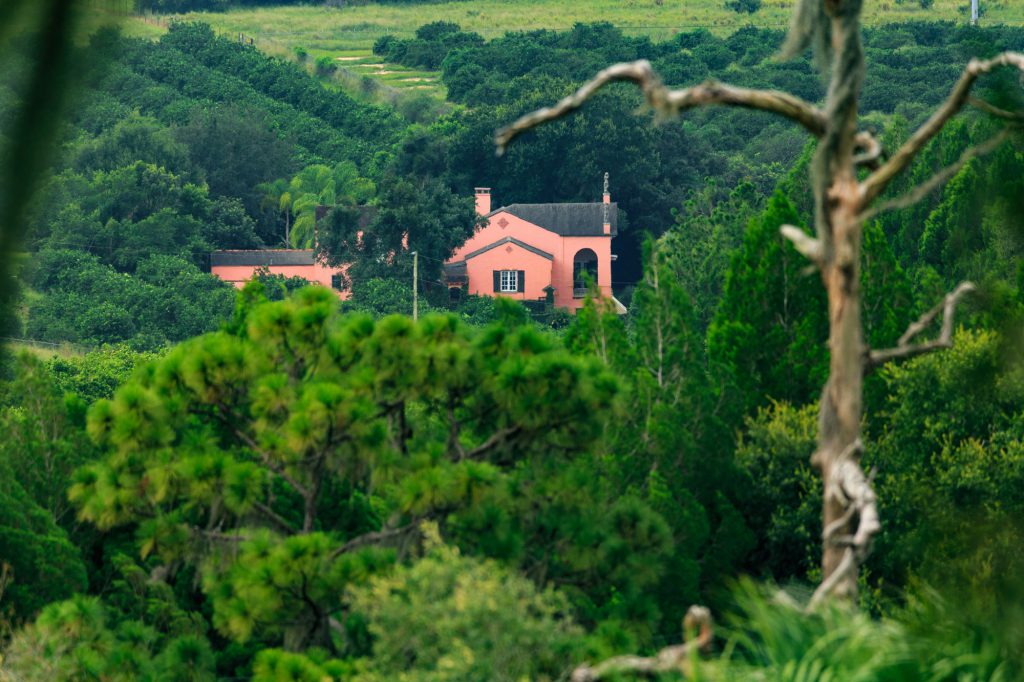 What a great location to stash a house, wouldn't you say? I'm both intrigued and scared by the idea of living there.
Anyways, we got soaked. Soaked to the bone. The rain from those earlier clouds came, and it came with a vengeance. Luckily, Canon's camera bag did a great job at keeping the gear dry. But can't say the same about my wife and I.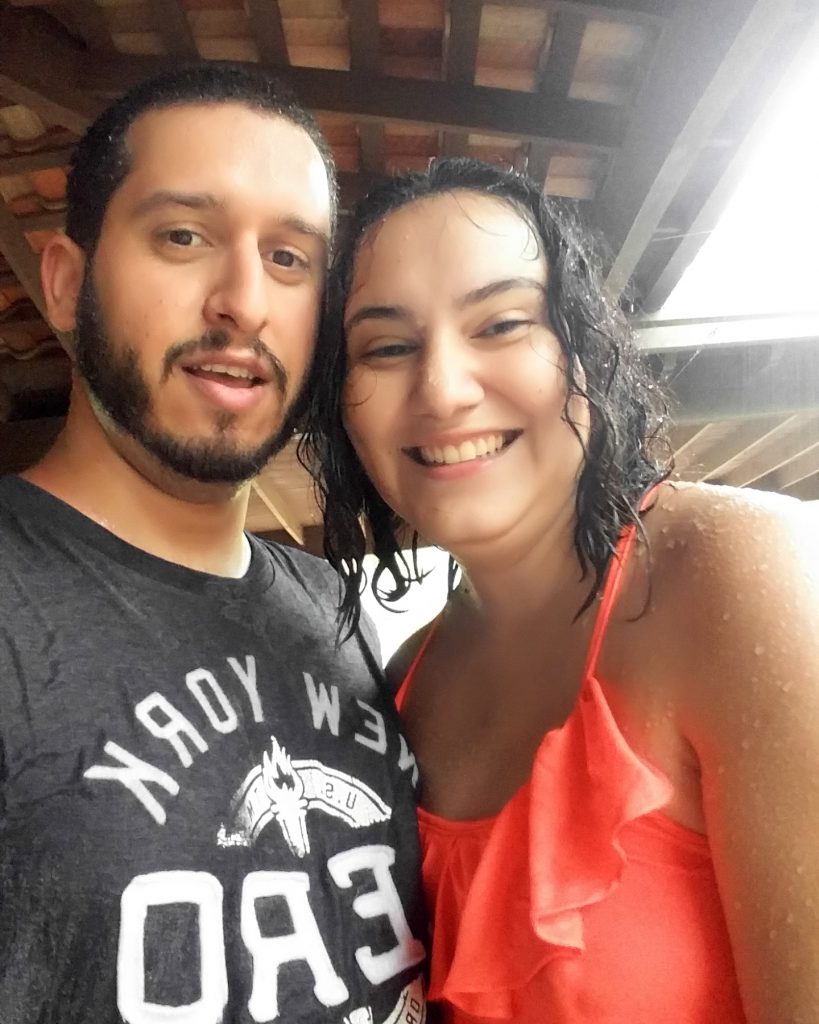 After running back to the visitor center, I took out all the gear to check. Luckily, no damage as I mentioned above.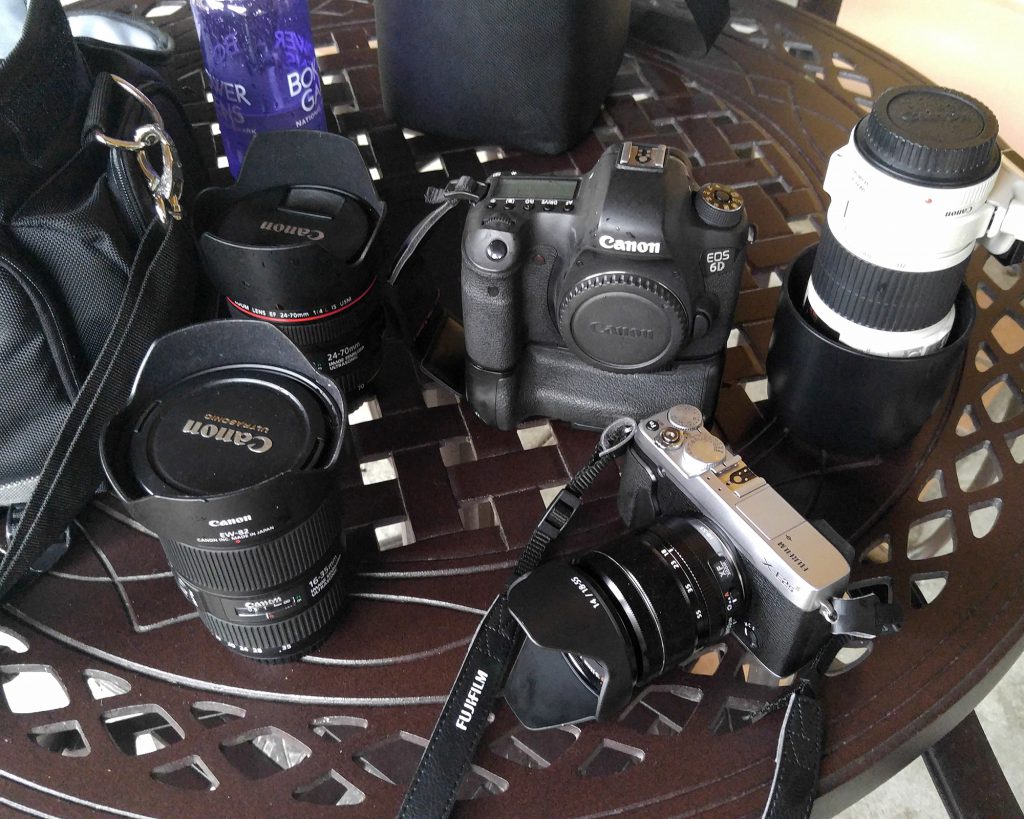 We waited a while for the rain to stop, and we changed to dry clothes (yay for having extra outfits in our luggage). But I knew I had to make the trek back to the tower. I hadn't had a chance to take the picture I wanted to take. The picture I felt I needed to take.
It was continuing to drizzle, so I set up the camera with the 24-70mm lens, grabbed my big umbrella, and literally held the umbrella over my camera while it took a sequence of 25 frames, which I then stacked in Photoshop as mentioned above to simulate having a neutral density filter. I'm very happy with the resulting image, and I think it was worth the trouble I went to to take it.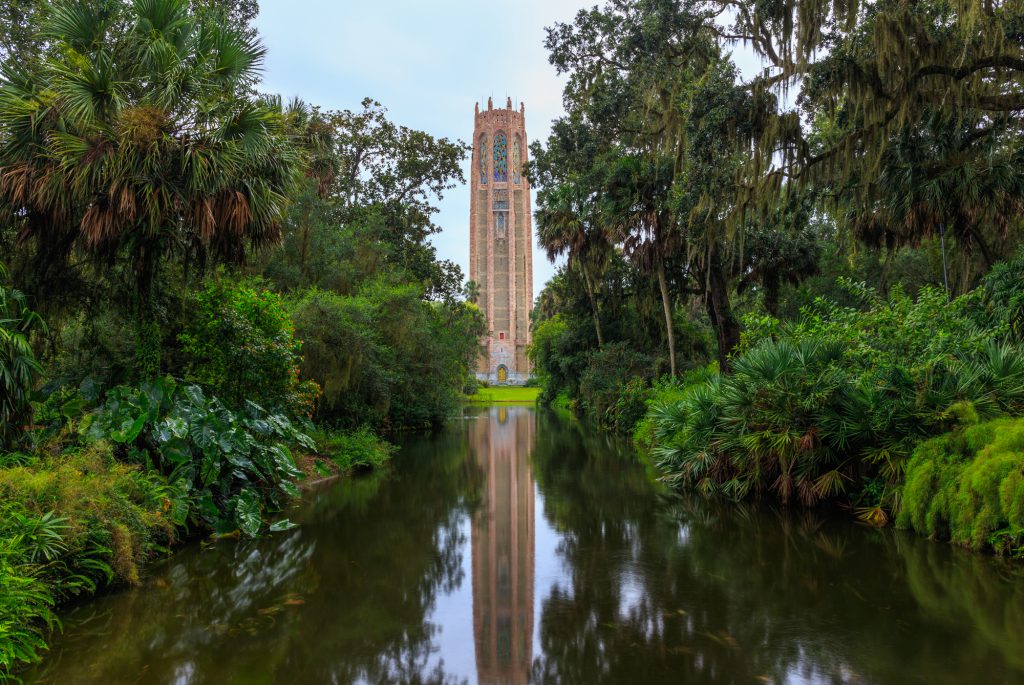 That's it for now. There are a few more photos at Bok Tower Gardens in our Facebook page. Click here to view the album.
This was a great trip, and I was glad I got to take so many photographs of cool people at the Tampa Bay Comic Con convention, and of such beautiful landscapes at the Bok Tower Gardens. And of course, I don't think I'll ever forget the Sunshine Skyway Bridge, and I really hope I get to photograph it again. I can't wait for my next trip, and you can bet there will be another blog post at that point!
Until then, make sure to like our page and follow us so you can get notified when we post new photos.