I recently had the wonderful opportunity of helping Lianet and Robert capture some unique memories of their first pregnancy. While I've done a few maternity / pregnancy photoshoots, this one was special: Lianet and Robert are huge Harry Potter fans, and wanted to incorporate Harry Potter in the photoshoot.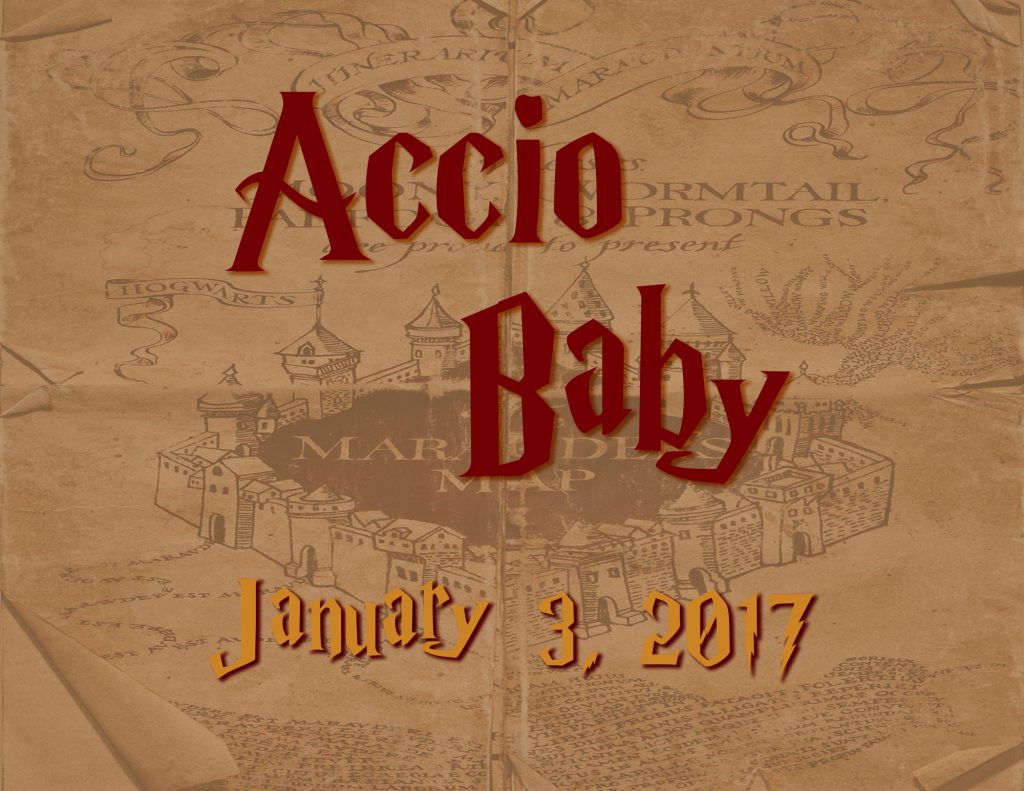 This was, definitely, my first Harry Potter themed photoshoot, but Lianet was willing to help get me up to speed, and my wife is very creative. Between the three of us, managed to create the poster above to incorporate into the shoot, and also came up with a few other ideas…
We wanted to shoot in a location that would be somewhat reminiscent of the Hogwarts architecture. Living in Miami, there isn't much that fits that particular bill – but the entrance to Coral Gables was a very close approximation.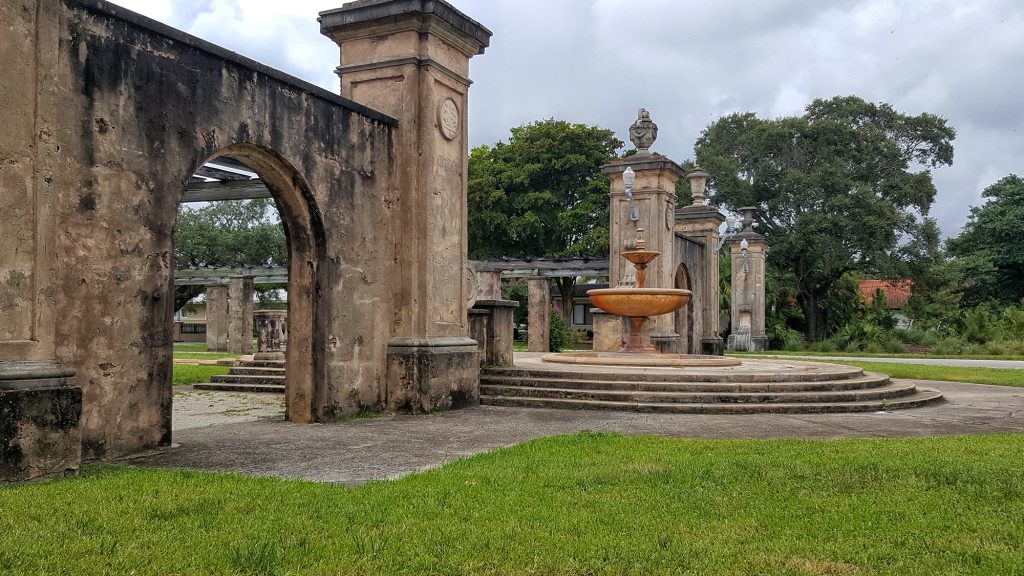 We agreed to meet there at 8am, in the hopes of beating the heat and harsh sunlight of the summer. Heat and humidity are always a negative, but it's something to pay close attention to when photographing an expectant mother. We made sure she kept hydrated and limited ourselves to a couple of hours total.
I used the Canon 6D for this shoot, along with the Canon 70-200mm f/4L IS as the primary lens. I relied mainly on natural light, but used an external flash with a white shoot-through umbrella for fill light where needed. Let's take a look at some of the photos!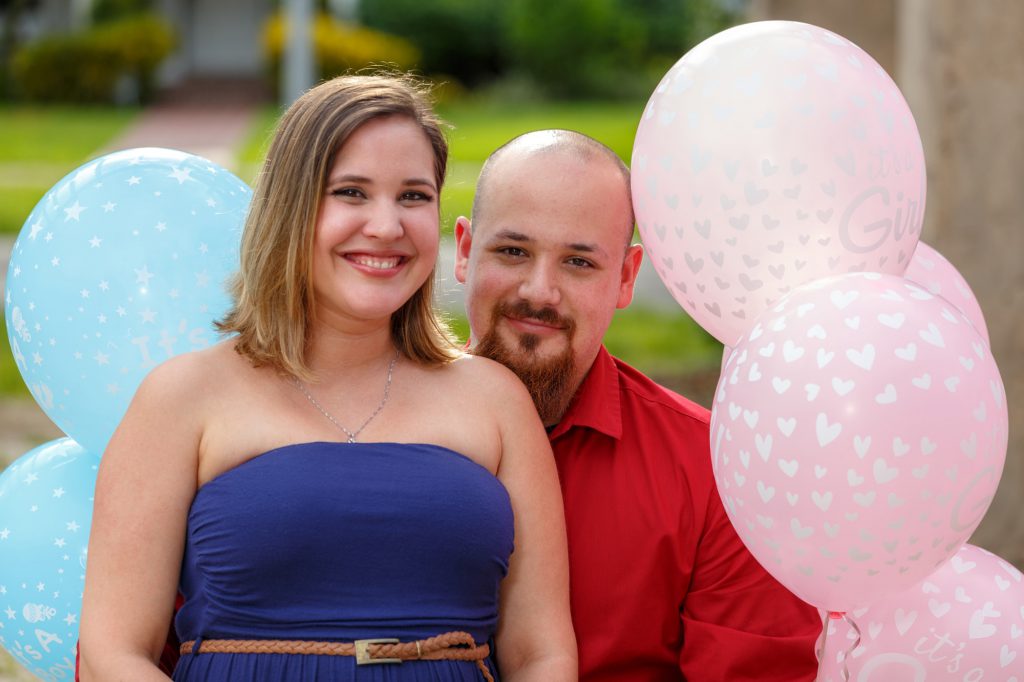 The photoshoot was happening the weekend before Lianet and Robert found out the gender of their baby, and so we decided to double up on everything, taking both blue and pink photos.
First we took several "pink" photos…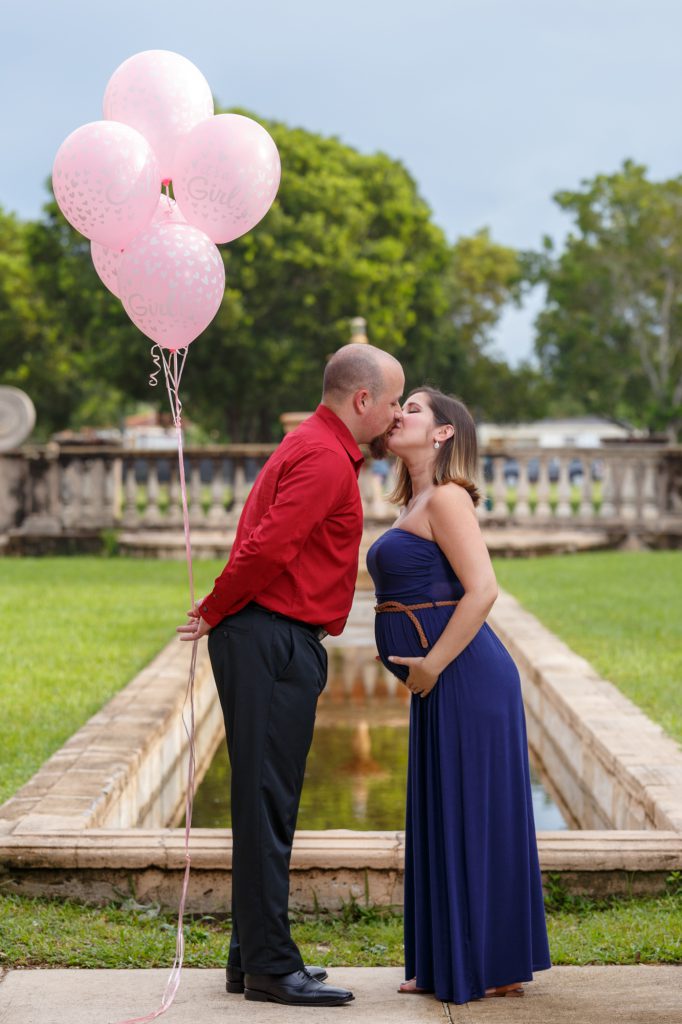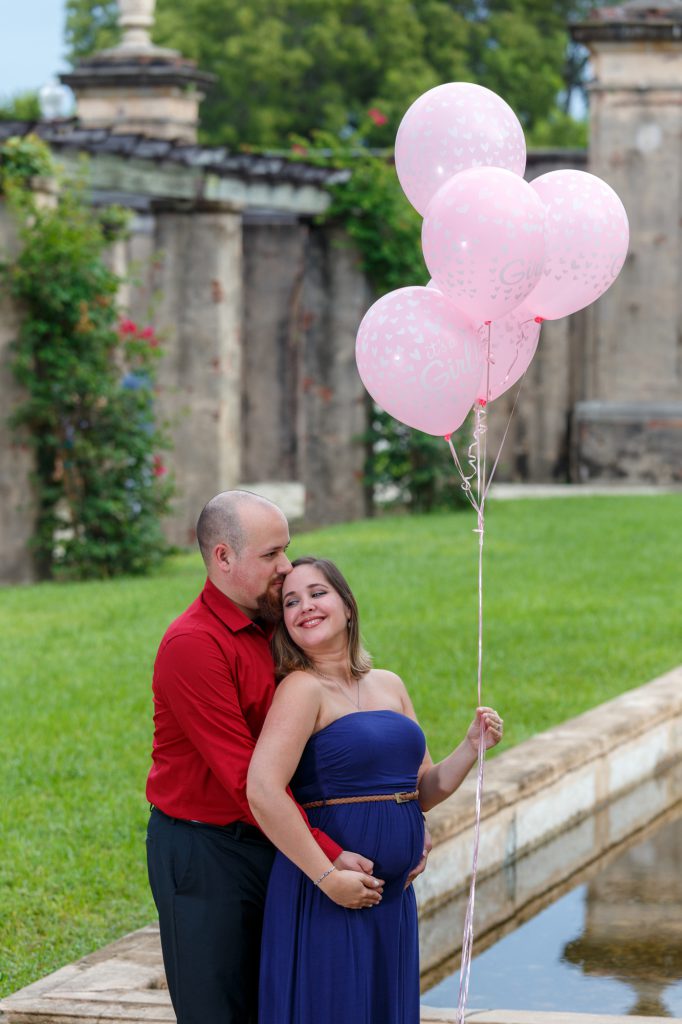 Then it was time for some "blue" photos…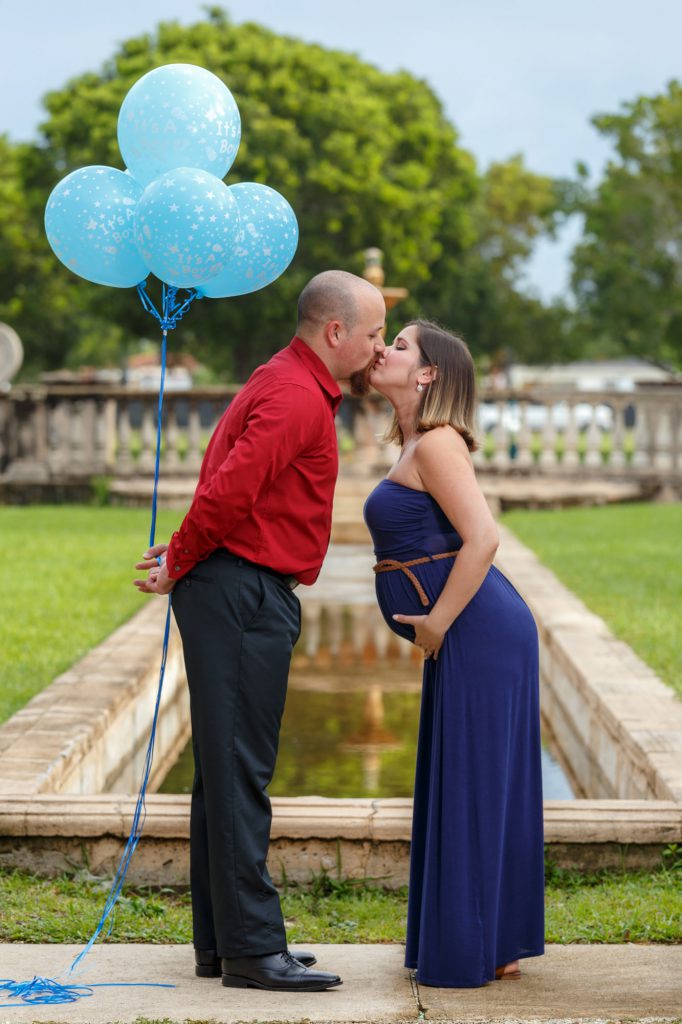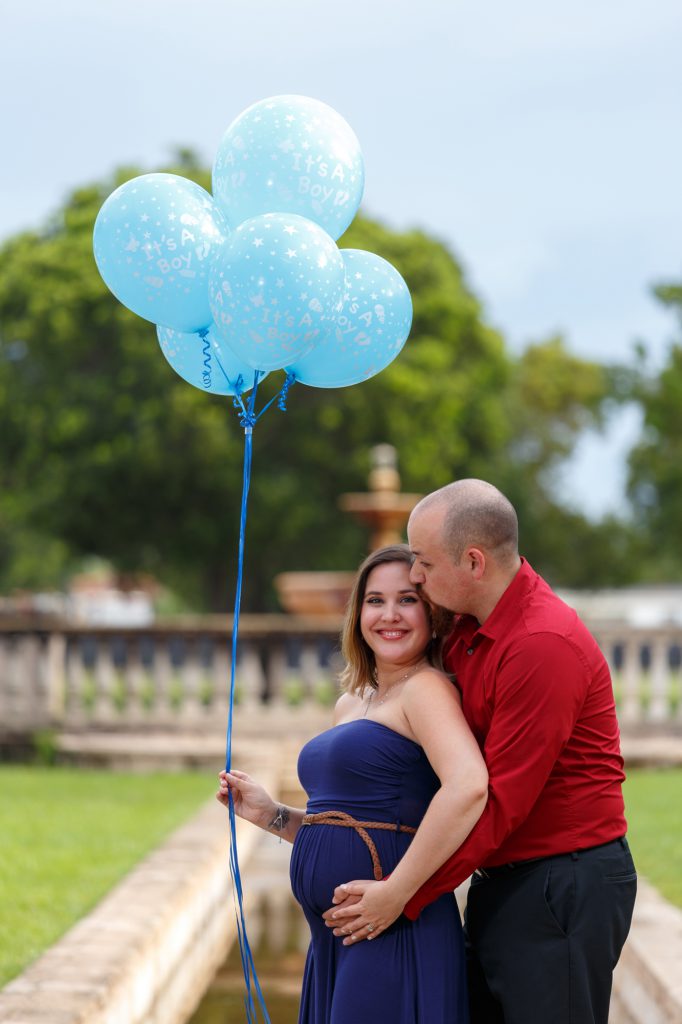 And we took several of each color…covering various angles and different locations within the area. You won't find all the pictures here though – if you want to see all of the pictures from that day, see the Facebook link at the bottom of this post.
Lianet and Robert had also purchased a very nice sign from the Harry Potter lore to incorporate into the photoshoot: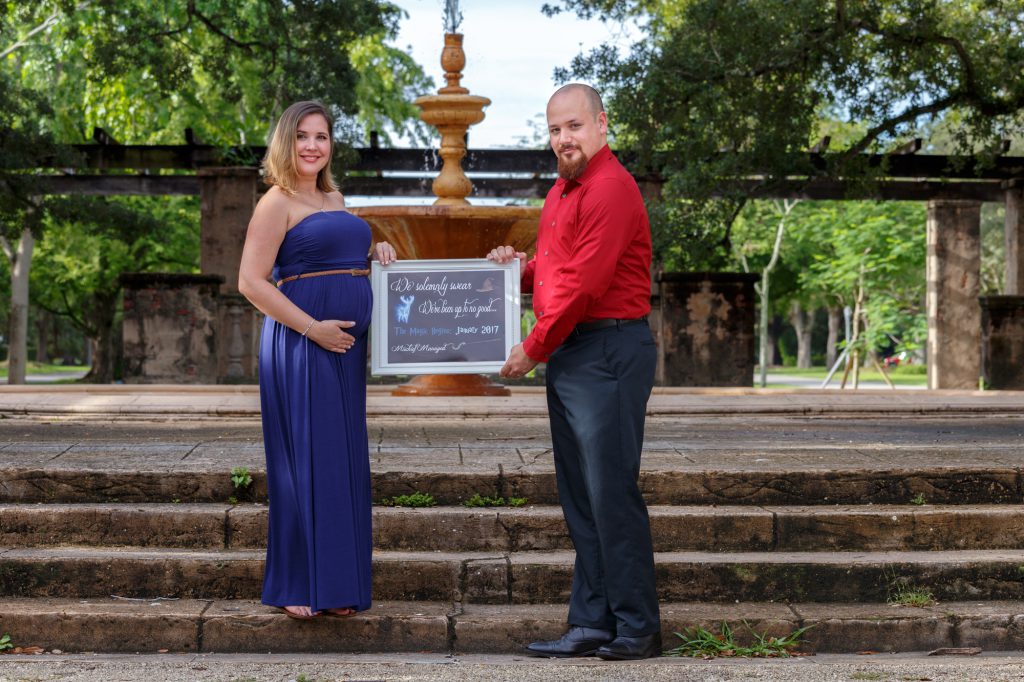 Next came one of the trickiest shots of the day. Lianet and Robert brought me a stack of Harry Potter books, which they wanted to integrate in a unique way into the photoshoot. I quickly came up with an idea, which I hadn't tried before but I was confident I could accomplish: wide open aperture, zoomed in to 200mm and at minimum focusing distance, to exaggerate the bokeh and highlight the books. Since this camera does not have an articulating screen, I had to figure out another way to frame the shot. Using the built-in WiFi, I connected the camera to my phone and used Canon's EOS Connect software to control the camera remotely. This allowed me to place the camera on the ground (literally), and be able to compose my shot. There is noticeable lag between changes on the camera and what you see on the EOS Connect app, but with some patience I was able to capture what I think are some beautiful photos.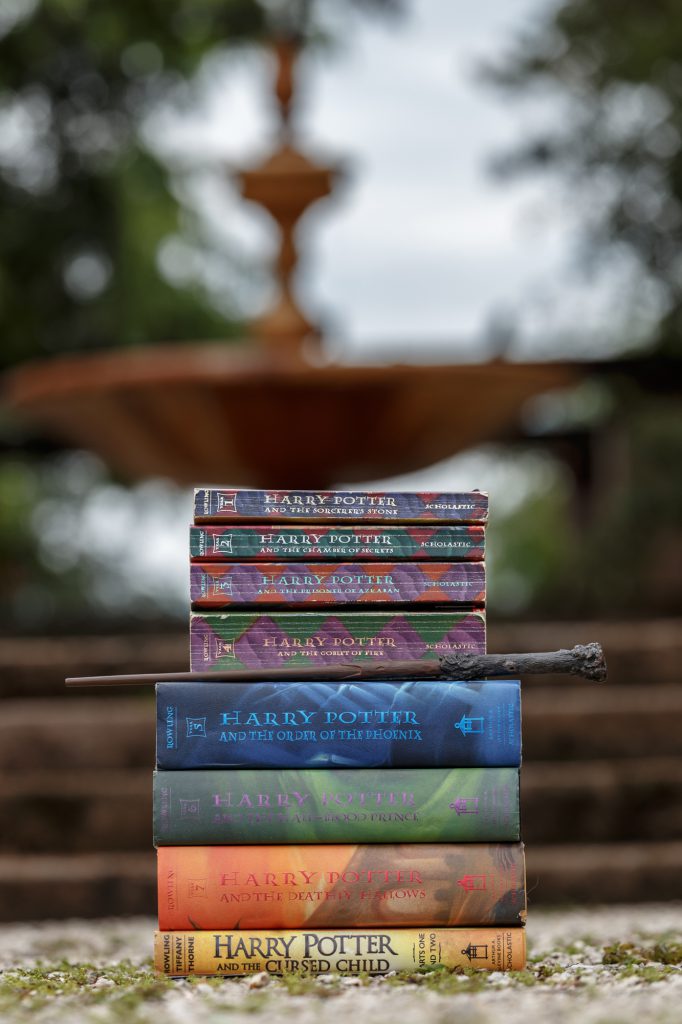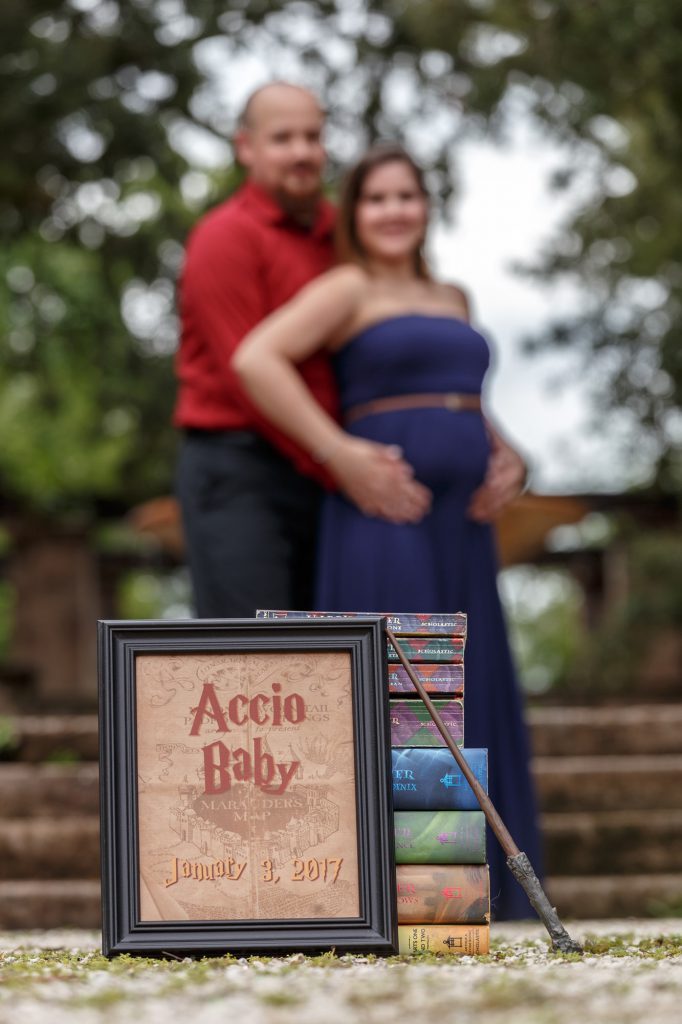 Putting it all together, the books, the custom sign, and the soon-to-be parents in the background
Of course, we had props! How can you have a Harry Potter themed photoshoot without at least a wand? Well, we didn't have to worry about answering that question, because we had a wand!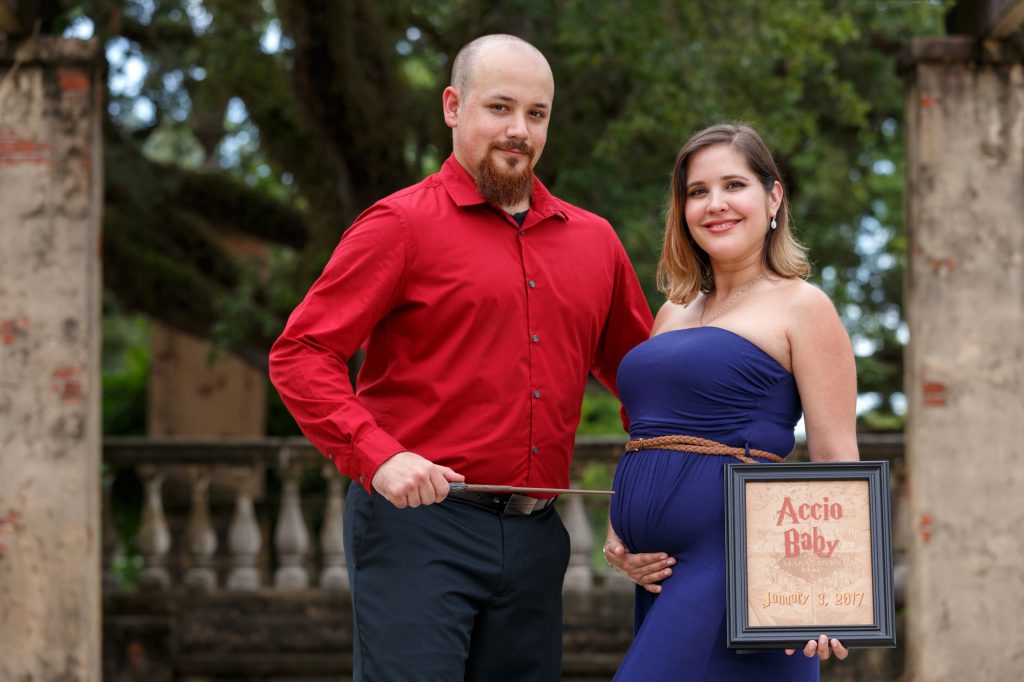 We even had cheesy special effects!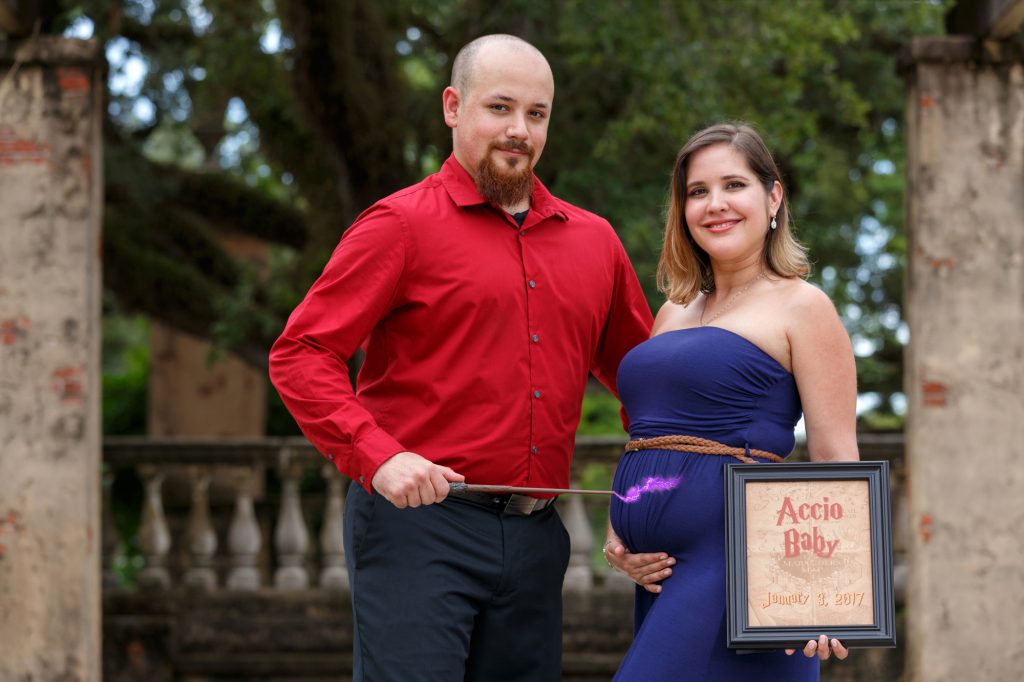 As you can imagine, I'm only showing you a select few images from this day. There's a ton of poses, locations, props, and a bunch of poorly made special effects (that were optional!).
It was a wonderful experience in many ways.
First, as a photographer, I cherish the days where a photoshoot goes so well: there are no communication problems, the weather cooperates, and everyone ends in a good mood. This was one of those days. Beyond that, it was heartwarming to see how much love is shared between Lianet and Robert. It's clear that this child will be joining a great family and will be loved dearly.
Since we did both blue and pink in anticipation of the gender reveal, Lianet and Robert were able to announce the gender using a lovely slideshow video of their favorite pink photos! Yes, it's a girl!
Head over to our Facebook page to view the entire album and check out the rest of the photos.
Make sure to like our page and follow us to get notifications when we post new photos!